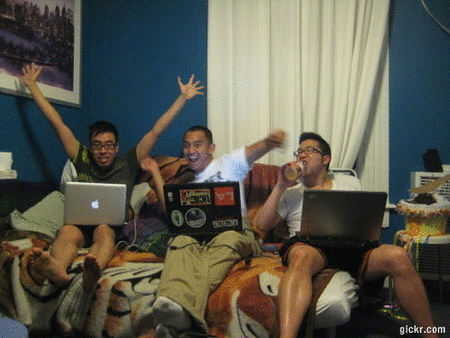 -My favorite thing to do at 321 (more than serve Jello shots) is using the living room space to live in.=]

==

I've been feeling uneasy. I think it's because I haven't allowed myself to blog as much as I used to. And though I could be experiencing life instead of having to constantly recap it, I feel as though I need this to feel accomplished.

There are a couple of things that happened in May that I forgot to mention and instead of posting a bunch of pictures, I created collages. Please click to enlarge.


Exploring LA.
Ern took me around downtown and we stumble upon a Native American festival. Ern also took me to this secret spot in downtown LA where he had one of his first performances. In that area was a community project where industry met nature. Plants grew from old cars, piping all under a highway. He could better explain it. But it was amazing.




A quick roller skating event for work. They rented out the entire rink. I was sad there was no Cupid Shuffle or Charlie Browning like the rink we went to last time, but it was a good time. I also got to try out the Mac and Grilled Cheese Sandwich for the Grilled Cheese Truck. yum.



Alysia and I made our way to celebrate Caitlin's birthday in Long Beach. Lots of straight fun with beer pong and flip cup. I didn't have to pressure anyone to drink, these bro-dudes were already 5 cans ahead of me and the saucy girls of Caitlin's were already buzzing before the arrived. Glad to have kept in touch with my wonderful high school friends.



Some jumping photos from Silverlake's Jubilee festival. I could make some art with these images. Hmm... any ideas?